Santa Rosa Strength and Conditioning is seeking experienced trainers to provide fitness, nutrition, and lifestyle coaching for our clients to meet their health and fitness goals.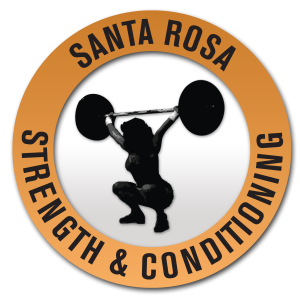 Dear Prospective SRSC Coach,
Santa Rosa Strength and Conditioning is a community-minded athletic training facility that provides tools and guidance to help our clients live happier, healthier, and larger lives. We've been in business for over seven years and have worked with thousands of people in Sonoma County to help them move better, get stronger, and live their lives to the fullest.
We offer private, semi-private, and small group training, and we provide customized training programs for all of our clients based on their individual needs and goals. We take pride in the fact that we offer exceptional coaching – emphasizing proper form and execution of movements – and that our membership is diverse in ages and abilities. We provide a safe and supportive community for everyone, and truly love what we do.
As our business continues to grow, so do our staffing needs. We are looking for a warm, friendly person with experience teaching individuals and groups, a knowledge base of biomechanics and athletic movement, and the drive and desire to help people, to join our excellent coaching staff.
We want to work with someone who is a natural leader, teacher, and coach. This person loves to continually learn, study, and further their education both personally and professionally, and strives to live a healthy and empowered life him/herself.
---
We expect our coaches to:
Demonstrate exercises, and provide proper cues, instruction and motivation to clients. You should have a working knowledge of the human body (i.e. muscles, movements, functions, etc.) and be able to provide appropriate exercises and modifications of exercises for individuals. You should be able to instruct individuals and groups to perform a given movement, and should be able to create and provide mini-lessons on fine points of movements.
Create appropriate individualized programs for clients based on their needs and goals. We don't write workouts here. We design long-term programs to help our clients to meet their specific goals. You should have a clear system for designing exercise programs and be able to explain your choices in exercise selection, sets, reps, energy systems, etc in your programs. We can train you in how we do things, but you need a base of experience to start.
Receive and provide ongoing health, nutrition, and fitness education. Our members rely on us to service their health and fitness needs. It is your job as a coach to provide members with information that will empower them to lead healthier lives. We provide some resources for professional development, but we also expect you to seek out your own professional development through courses, seminars, journals, etc. to increase your own knowledge and share it with our community.
Build community. A great part of the success of our program is the camaraderie built by our membership and staff. Part of your job as coach is create relationships with all of our members, to acknowledge the efforts and achievements of members both privately and publicly, take pictures during classes to highlight member achievements, introduce new members to others, organize and attend community events, and to encourage and facilitate 'good vibes' within our community.
Manage groups and time. Our coaches need to have not only a friendly presence but an authoritative one, able to plan the hour of training, and direct the individual or group in the planned activities. Our members want to know that the coach is in charge and she or he knows what s/he's doing.
Carry out basic protocols regarding safety and business. We'll train you in the protocols, you follow through with them.
---
To qualify for this position, we need the following already in place:
–Excellent People and Communication Skills. You will be closely interacting with our members, who are very important to us. You must be comfortable conversing with individuals in person and by email, and know how to conduct yourself professionally and warmly. You need to truly care about people and making their lives better.
–Health and Fitness Knowledge. You should have a working knowledge of human anatomy and movement, whether gained through formal schooling, self-directed education, or experience. Your knowledge of health and fitness should be an ongoing learning process, but you need to have a foundation in place upon hiring.
–Certification and Experience. There are many personal trainer certifications out there, and which you have isn't extremely important to us. We want to know that you've taken your career seriously and have studied for and passed at minimum one of certifications, and have attended multiple seminars or workshops to further your education.
-Additionally, we will give higher priority to applicants that have:
-An undergraduate or graduate degree in kinesiology, exercise science, or other human movement studies and/or professional licensing in fields such as chiropractic or physical therapy
-Background, familiarity, and/or certifications from: Paul Check, OPEX, CSCS, Strength Matters, Starting Strength, RKC, SFG, CrossFit, Poliquin, Ido Portal, MovNat, USAW
-Experience as a competitive athlete
-Experience with a Primal/Paleo nutrition template
---
If you are interested in pursuing employment with Santa Rosa Strength and Conditioning, we invite you to send a cover letter and resume to info(at)santarosasc(dot)com. Please follow those instructions. They're pretty simple, yet we get plenty of interest from people that don't follow them (and therefore aren't hired).
Thank you for your interest, and we look forward to hearing from you.
Joanna Sapir
Owner, Santa Rosa Strength and Conditioning