[et_pb_section admin_label="Section" fullwidth="on" specialty="off"][et_pb_fullwidth_header admin_label="Fullwidth Header" title="Sonoma County Weekend Warriors!" background_layout="light" text_orientation="left" header_fullscreen="off" header_scroll_down="off" button_one_text="Request More Info" parallax="off" parallax_method="off" content_orientation="center" image_orientation="center" custom_button_one="off" button_one_letter_spacing="0″ button_one_use_icon="default" button_one_icon_placement="right" button_one_on_hover="on" button_one_letter_spacing_hover="0″ custom_button_two="off" button_two_letter_spacing="0″ button_two_use_icon="default" button_two_icon_placement="right" button_two_on_hover="on" button_two_letter_spacing_hover="0″ background_color="#7ebec5″]
You are a busy professional, focused on career and family. And your fitness is suffering as a result. You may even have a mainstream gym membership, but you're either not using it, or just not seeing the results you want. You want to live a larger life – to be strong, healthy, and have energy and stamina to be a weekend warrior and be a model for your family and community.
[/et_pb_fullwidth_header][/et_pb_section][et_pb_section admin_label="Section" fullwidth="off" specialty="on"][et_pb_column type="2_3″ specialty_columns="2″][et_pb_row_inner admin_label="Row"][et_pb_column_inner type="4_4″ saved_specialty_column_type="2_3″][et_pb_text admin_label="Text" background_layout="light" text_orientation="left" use_border_color="off" border_color="#ffffff" border_style="solid"]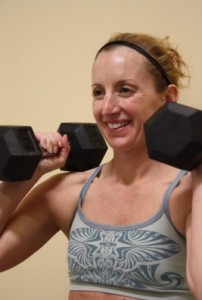 I came to CrossFit Santa Rosa in the fall of 2010 as a veteran marathon runner in full race condition. I thought I was a good athlete already, so Crossfit might help me a little around the edges but I was doing well on my own. My On-ramp was an exercise in humility. I could not even do a proper air squat, having no posterior chain after so many years of running.
"In 3 months, my strength increased substantially…I feel better physically than I have in years."-Tracey Hannah
My initial gains came very slowly in the box because I refused to acknowledge that anything other than running 5 miles was a workout. I tried to run my same 20-25 miles a week and add in Crossfit. I was miserably sore all the time and my strength improved at a snail's pace. Joanna cautioned me many times I was overtraining and needed to stop the chronic cardio. She told me repeatedly that Crossfit was excellent conditioning and I didn't need run so much. Did I listen? Nah.
And then, the inevitable: one day doing double unders I started to feel a burning at the back of my right heel. Which, of course, I ignored. I ignored it until the pain got so bad I couldn't walk properly. I eventually went to the doctor and discovered a chronic Achilles tendon tear and tendonitis, more than likely the result of my refusal to quit overtraining. I ended up in a boot for 6 weeks and couldn't do anything but swim and a few upper body lifts. The forced inactivity was torturous.
When I got released to work out again, my running was restricted but not my weightlifting. I started going to Oly class and doing Crossfit minus the long cardio sessions in between. And what happened? In 3 months, my strength increased substantially. I made it to the top of the rope for the first time. My pull-ups improved dramatically. I got into a headstand. I took 13 seconds off my 2000 meter row time. Why did all these positive changes happen? Because I FINALLY listened to my coaches and my body and quit the long slogs through the neighborhood. I still run because I enjoy it, but it has become a once or twice a week way to mix it up. I feel better physically than I have in years. And recently when the WOD was a mile for time I ran a casual mile that was one of the fastest I've ever clocked.
---
[/et_pb_text][/et_pb_column_inner][/et_pb_row_inner][/et_pb_column][et_pb_column type="1_3″][et_pb_sidebar admin_label="Sidebar" orientation="left" area="sidebar-1″ background_layout="light" remove_border="off"] [/et_pb_sidebar][/et_pb_column][/et_pb_section]
---
---