[et_pb_section admin_label="Section" fullwidth="on" specialty="off"][et_pb_fullwidth_header admin_label="Fullwidth Header" title="Sonoma County Weekend Warriors!" background_layout="light" text_orientation="left" header_fullscreen="off" header_scroll_down="off" button_one_text="Request More Info" parallax="off" parallax_method="off" content_orientation="center" image_orientation="center" custom_button_one="off" button_one_letter_spacing="0″ button_one_use_icon="default" button_one_icon_placement="right" button_one_on_hover="on" button_one_letter_spacing_hover="0″ custom_button_two="off" button_two_letter_spacing="0″ button_two_use_icon="default" button_two_icon_placement="right" button_two_on_hover="on" button_two_letter_spacing_hover="0″ background_color="#7ebec5″]
You are a busy professional, focused on career and family. And your fitness is suffering as a result. You may even have a mainstream gym membership, but you're either not using it, or just not seeing the results you want. You want to live a larger life – to be strong, healthy, and have energy and stamina to be a weekend warrior and be a model for your family and community.
[/et_pb_fullwidth_header][/et_pb_section][et_pb_section admin_label="Section" fullwidth="off" specialty="on"][et_pb_column type="2_3″ specialty_columns="2″][et_pb_row_inner admin_label="Row"][et_pb_column_inner type="4_4″ saved_specialty_column_type="2_3″][et_pb_text admin_label="Text" background_layout="light" text_orientation="left" use_border_color="off" border_color="#ffffff" border_style="solid"]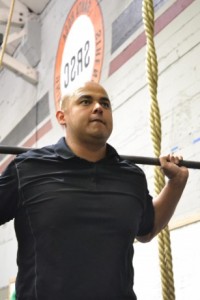 Santa Rosa Strength and Conditioning is more than just a program to me, although it offers the best out there. It's pure community. For me that has been the fuel behind my change.
It's that moment when the final three reps of your last set is overbearing and your knees are about to give in that you are carried by the cheers of your peers demanding that you finish and finish strong. It is the eyes of your 5'4 fitness coach that watches across the black matted floor observing your form and watching the sweat fall from your brow and you know that she understands where you are because she has been there and is qualified to teach and inspire. That's the stuff changes lives.
My pants size has dropped by two sizes, I can see my feet now standing up. I did a complete rope climb all way to the top that was awesome by the way, and if you weren't there you missed it.
SRSC has taught me that I can't wait for the change and the validation to be a complete example of mind, body, heart and spirit to just magically land on my lap. I have to go after it with a barbell. But I'm not going after it alone, I have a community walking with me.
---
[/et_pb_text][/et_pb_column_inner][/et_pb_row_inner][/et_pb_column][et_pb_column type="1_3″][et_pb_sidebar admin_label="Sidebar" orientation="left" area="sidebar-1″ background_layout="light" remove_border="off"] [/et_pb_sidebar][/et_pb_column][/et_pb_section]
---
---