[et_pb_section admin_label="Section" fullwidth="on" specialty="off"][et_pb_fullwidth_header admin_label="Fullwidth Header" title="Sonoma County Weekend Warriors!" background_layout="light" text_orientation="left" header_fullscreen="off" header_scroll_down="off" button_one_text="Request More Info" parallax="off" parallax_method="off" content_orientation="center" image_orientation="center" custom_button_one="off" button_one_letter_spacing="0″ button_one_use_icon="default" button_one_icon_placement="right" button_one_on_hover="on" button_one_letter_spacing_hover="0″ custom_button_two="off" button_two_letter_spacing="0″ button_two_use_icon="default" button_two_icon_placement="right" button_two_on_hover="on" button_two_letter_spacing_hover="0″ background_color="#7ebec5″]
You are a busy professional, focused on career and family. And your fitness is suffering as a result. You may even have a mainstream gym membership, but you're either not using it, or just not seeing the results you want. You want to live a larger life – to be strong, healthy, and have energy and stamina to be a weekend warrior and be a model for your family and community.
[/et_pb_fullwidth_header][/et_pb_section][et_pb_section admin_label="Section" fullwidth="off" specialty="on"][et_pb_column type="2_3″ specialty_columns="2″][et_pb_row_inner admin_label="Row"][et_pb_column_inner type="4_4″ saved_specialty_column_type="2_3″][et_pb_text admin_label="Text" background_layout="light" text_orientation="left" use_border_color="off" border_color="#ffffff" border_style="solid"]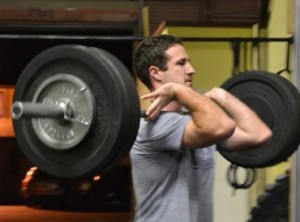 At the urging of my wife (who had been a member several months prior to me signing up), I decided to enroll at CrossFit Santa Rosa. I was a bit reluctant as I had always-preferred going to the gym, putting in my headphones and doing the workout on my own. Even during my football playing days, I favored individual workouts.
After my first class at CFSR, I was hooked.
What I enjoy most about CFSR is the variance of workouts. You never get in a rut. The lack of a traditional routine helped me come back on a regular basis and after a year at CFSR I can see amazing tangible results. I'm still routinely setting PR's in my lifts and my WOD times are getting better and better. I'm doing movements (like handstand pushups) now that I never thought I would accomplish. I've dropped 30 pounds (mostly body fat!), I'm now wearing the same sized clothes that I wore way back in high school, I have a new found endurance level and, most importantly, I feel better in my day to day life.
I would recommend CFSR to any person of any athletic skill level looking for a change. A change in their workout. A change in their lifestyle. The beauty of CFSR is that every workout is scalable. When I started, I wasn't able to do a pull-up. But with altering my workout to focus on my weaknesses, I'm now able to string together multiple pull-ups.
My goal before starting CFSR was to get in the best shape of my life. I was entering my 30's and searching for something new. CFSR has changed my life. I can now proudly say that I've achieved my goal.
---
[/et_pb_text][/et_pb_column_inner][/et_pb_row_inner][/et_pb_column][et_pb_column type="1_3″][et_pb_sidebar admin_label="Sidebar" orientation="left" area="sidebar-1″ background_layout="light" remove_border="off"] [/et_pb_sidebar][/et_pb_column][/et_pb_section]
---
---