[et_pb_section admin_label="Section" fullwidth="on" specialty="off"][et_pb_fullwidth_header admin_label="Fullwidth Header" title="Sonoma County Weekend Warriors!" background_layout="light" text_orientation="left" header_fullscreen="off" header_scroll_down="off" button_one_text="Request More Info" parallax="off" parallax_method="off" content_orientation="center" image_orientation="center" custom_button_one="off" button_one_letter_spacing="0″ button_one_use_icon="default" button_one_icon_placement="right" button_one_on_hover="on" button_one_letter_spacing_hover="0″ custom_button_two="off" button_two_letter_spacing="0″ button_two_use_icon="default" button_two_icon_placement="right" button_two_on_hover="on" button_two_letter_spacing_hover="0″ background_color="#7ebec5″]
You are a busy professional, focused on career and family. And your fitness is suffering as a result. You may even have a mainstream gym membership, but you're either not using it, or just not seeing the results you want. You want to live a larger life – to be strong, healthy, and have energy and stamina to be a weekend warrior and be a model for your family and community.
[/et_pb_fullwidth_header][/et_pb_section][et_pb_section admin_label="Section" fullwidth="off" specialty="on"][et_pb_column type="2_3″ specialty_columns="2″][et_pb_row_inner admin_label="Row"][et_pb_column_inner type="4_4″ saved_specialty_column_type="2_3″][et_pb_text admin_label="Text" background_layout="light" text_orientation="left" use_border_color="off" border_color="#ffffff" border_style="solid"]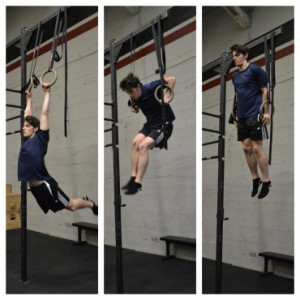 Since beginning Crossfit at SRSC around 6 months ago, my life has changed drastically both in and out of the box. Family, friends, relationships, all in flux; Crossfit has been the constant. I learned to listen not only to the coaches, but also to my body. I've learned better what it needs, how I need to treat it for optimal health. I've also become distinctly aware of the connection between truly good food and truly good health, never having known until SRSC what a vibrant connection I could make with the physical aspect of my existence.
The physical results, reduced body fat, greater and more toned muscle mass, are obvious and undeniable. Waking up sore, yet energetic and eager for the next challenge every day proves the mental benefits. But it's been the connection I've made with my coaches and fellow athletes that's been most remarkable, as rewarding as any personal physical improvements.
Having played competitive soccer most of my life, I'm very familiar with the nature of teamwork and camaraderie. SRSC redefines both by creating an environment in which your only opponent is your own breakable limits, and everyone in the gym is your teammate and supporter simultaneously, pushing you every day to be the strongest you can be.
Performance in these classes, whether it's the workout of the day, strength, or Olympic lifting, depends directly upon my relationship with my fellow Crossfitters, my body, and no less importantly, nutrition. I've found a sweet spot in a nearly fully Paleo diet that complements a Crossfitter's lifestyle as both fuel and pleasure, encouraging harmony between creativity and discipline in the kitchen as well as the CrossFit box. When such modifications to my lifestyle manifest in the results I've had, it's easy to see the connection between the crossfit lifestyle and a more vibrant life overall.
---
[/et_pb_text][/et_pb_column_inner][/et_pb_row_inner][/et_pb_column][et_pb_column type="1_3″][et_pb_sidebar admin_label="Sidebar" orientation="left" area="sidebar-1″ background_layout="light" remove_border="off"] [/et_pb_sidebar][/et_pb_column][/et_pb_section]
---
---