There are a few places on the body that are fairly common sources of pain in people who push, pull, and squat heavy weights like we do here at SRSC. This week I want to address elbow pain.
Elbow pain typically comes in two forms – lateral epicondylitis (outside of the elbow) or medial epicondylitis (inside of the elbow). Movements that can commonly aggravate these conditions are pull-ups, chin-ups, push-ups, bench press, overhead press, snatch, clean, and the squat.
Why does this happen? Well, a number of reasons – but one possibility is due to an imbalance caused by our modern lifestyle. We spend a lot of time texting, typing, driving, with our shoulders in compromised positions. This causes problems when we go to do a pull-up, and our brains decide the best way to generate force is to rely heavily on the muscles of the forearm to get the job done (finger flexors and extensors), instead of our prime movers like our lats and traps. Over time this bad motor pattern becomes self perpetuating and the forearm develops significant tension and adhesions.
The solution is a two step process: first eliminate the adhesions, and then restore normal shoulder function:
Step #1. Fix the Forearm with the Voodoo Floss Band
Since I frequently run into medial elbow pain myself, I'm always looking for a way to fix it. Smashing with a lacrosse ball or barbell is too painful. Aside from an ART practitioner, the best way to break up adhesions and restore movement to the forearms is the voodoo floss band, popularized by mobilitywod.com's Kelley Starrett (owner of SFCF).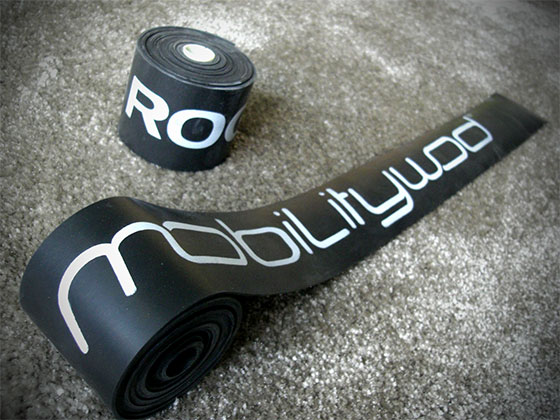 Check out this video to get an idea on how to use the voodoo floss band:
Step #2. Get the Primary Shoulder Movers Back Online
By far the most common muscular issue I see in strength athlete populations is in the subscapularis, deep in the armpit. A myriad of muscles pass through this area, and through overwork and bad mechanics get stuck to one another. These adhesions reduce efficiency, causing the subscapularis to overwork and eventually lead to its poor function and lack of range. This in turn prevents your humerus from properly rotating, limiting external rotation and causing increased strain on the inner elbow during positions like the front squat.
So, you need to address the subscapularis. The best way to do this is with a barbell, lacrosse ball, and floss band. Use the floss band to attach the ball to the bar, and then follow the instructions in this video:
If these methods don't relieve you of elbow pain, you might need to look at other suspect muscles along those functional lines. Use the picture below from Thomas Meyer's Anatomy Trains to give you an idea of other potentially problematic muscles.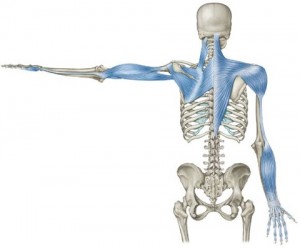 Still in pain? Ask for some help!
I am available Tuesdays, Wednesdays, and Thursdays for a free consultation or $50 off initial appointment. Click here to contact me.
About the author: Julian Corwin is an NSCA Certified Strength and Conditioning Specialist and Active Release Techniques ART® provider. His passion is restoring pain-free movement and educating people about their body.
---
---