[et_pb_section admin_label="Section" fullwidth="on" specialty="off"][et_pb_fullwidth_header admin_label="Fullwidth Header" title="Sonoma County Weekend Warriors!" background_layout="light" text_orientation="left" header_fullscreen="off" header_scroll_down="off" button_one_text="Request More Info" parallax="off" parallax_method="off" content_orientation="center" image_orientation="center" custom_button_one="off" button_one_letter_spacing="0″ button_one_use_icon="default" button_one_icon_placement="right" button_one_on_hover="on" button_one_letter_spacing_hover="0″ custom_button_two="off" button_two_letter_spacing="0″ button_two_use_icon="default" button_two_icon_placement="right" button_two_on_hover="on" button_two_letter_spacing_hover="0″ background_color="#7ebec5″]
You are a busy professional, focused on career and family. And your fitness is suffering as a result. You may even have a mainstream gym membership, but you're either not using it, or just not seeing the results you want. You want to live a larger life – to be strong, healthy, and have energy and stamina to be a weekend warrior and be a model for your family and community.
[/et_pb_fullwidth_header][/et_pb_section][et_pb_section admin_label="Section" fullwidth="off" specialty="on"][et_pb_column type="2_3″ specialty_columns="2″][et_pb_row_inner admin_label="Row"][et_pb_column_inner type="4_4″ saved_specialty_column_type="2_3″][et_pb_text admin_label="Text" background_layout="light" text_orientation="left" use_border_color="off" border_color="#ffffff" border_style="solid"]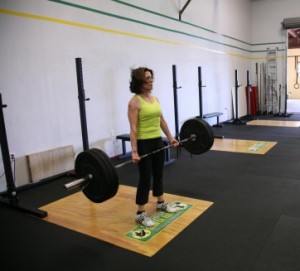 On my 58th birthday, my brother who is a physician called to offer some unsought and hard-to-hear advice: "You're going to start losing your balance like mom if you don't start moving," he said.  "It is not going to be pretty."  In fact, I had already started to notice little changes, like my step being unsteady as I got out of bed in the morning. I remember sitting in my car, cell phone in hand, reflecting on what I considered to be the unappealing choices available to me: walk (boring); aerobics (I don't think they do it anymore); yoga (ho hum).
In the meantime, my co-worker had been talking to me incessantly about something called Crossfit.  I hemmed and hawed on the phone with Joanna about my special circumstances, how busy I was, blah, blah, blah.  Thank goodness she was patient with me and finally, in November of 2010, I walked into my first On-Ramp class.  I recall seeing a young woman with a ponytail flipping herself up and at a high bar over and over again and thinking, "What the hell am I doing here?"
I could hardly run twice around the parking lot that first class, but my fellow "On-Rampers" cheered me to finish. That night I slept like a child, my body infused with the delicious fatigue I remembered feeling after playing outside on long summer evenings.
Maybe that sums it up in a nutshell: I come to Santa Rosa Strength and Conditioning to do things I didn't think I could do, in the company of really fun, supportive people and afterwards, I feel great.  Nothing in the world beats the feeling of collapsing onto the floor after a particularly demanding WOD, heart pounding, delivered of worry and stress, and yielded up to the fullness of the effort.  Now, when I step out of bed in the morning, my foot is firm on the floor and I'm aware of my core and my body in space.
---
[/et_pb_text][/et_pb_column_inner][/et_pb_row_inner][/et_pb_column][et_pb_column type="1_3″][et_pb_sidebar admin_label="Sidebar" orientation="left" area="sidebar-1″ background_layout="light" remove_border="off"] [/et_pb_sidebar][/et_pb_column][/et_pb_section]
---
---